CIVIL ENGINEERING COMPANY
WHAT IS A CIVIL ENGINEER?
The design, construction, and maintenance of the built environment, including public works like roads, bridges, canals, dams, airports, sewage systems, pipelines, building structural elements, and trains, is the focus of the professional engineering discipline known as civil engineering. In both the public and commercial sectors, civil engineers conceptualize, design, build, manage, run, construct, and maintain infrastructure projects and systems. For almost 30 years, Padula Engineering has been the best team of civil engineers in East Goshen, PA.
The term "civil drainage" describes a location, a system, or a network of devices that makes it easier to drain a city, a state, or a community where residents are actively engaged. Civil drainage is not the first thing that springs to mind when you think of public or busy communal areas. Civil drainage, however, has the power to make or break a public area. Civil drainage mistakes can result in a variety of catastrophes, including flooding, pooling, and slips and falls. When properly implemented, a civic drainage system makes sure that the public space is fit for its intended use and that activities, operations, and functions go off without a hitch. Let our team at Padula Engineering take care of all the civil drainage needs for your project in East Goshen, PA!
CIVIL ENGINEERING FOR RESIDENTIAL HOME ADDITIONS
The majority of homeowners don't realize they require an engineer until after they have begun their projects or until they encounter issues they can't resolve on their own. Many local and some state and federal agencies require detailed plans which can only be completed by a licensed professional. When it comes to home improvement in East Goshen, our civil engineers at Padula Engineering can provide homeowners with specific expertise and experience. A homeowner might be compelled to hire or gain from hiring a civil engineer in the following situations:
CIVIL ENGINEERING DRAWINGS
A technical drawing known as a civil construction drawing or a site design drawing displays data on site grading, erosion and sediment control, stormwater management, landscaping, or other site specifics. A civil engineer can easily understand everything on the construction site for your project in East Goshen, PA thanks to these drawings. A site plan is a collection of intended changes to a particular lot that consists of an architectural plan, a document on landscape architecture, and an extensive engineering drawing. A site plan often shows the building's footprint along with traffic lanes, parking spaces, options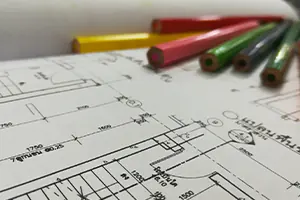 for drainage, sanitary sewer lines, water lines, paths, lighting, and premium garden and landscaping elements. A site plan like this illustrates graphically how buildings, parking, driveways, landscaping, and any other structure that is a part of a development project are arranged.
CHOOSE PADULA FOR CIVIL ENGINEERING
The engineering, surveying, planning, and construction phase services offered by Padula Engineering are affordable and comprehensive. No matter how large or complicated the project is, we always take a personal approach to meeting the demands of each client. By assuring the highest level of quality and cooperation in everything we do, we hope to satisfy the needs of our customers. When you're looking for the best civil engineering company in East Goshen, look no further than Padula Engineering!
CIVIL ENGINEERING SERVICES WE OFFER
Don't see what you are looking for in the list below? Not a problem! We offer a large selection of civil engineering services and can accommodate clients located within PA, NJ, & DE. Contact us to learn more!




Americans with Disabilities (ADA) Design

Best Management Practices



Project Management and Coordination


Land Use and Site Planning



Erosion and Sedimentation Controls

Construction Observation Services



Expert Witness and Testimony





Highway Occupancy Permits



Cities Near East Goshen, PA We Frequently Service
Below is a list of cities we commonly service, but often serve
many many more
.